Women have two weapons – cosmetics and tears. And since it is the most magical time of the year, I would rather focus on the first.
When I was younger I used to stick to the skincare cosmetics I was happy with. Nowadays, however, I love trying new things. Every time I am to buy a new skincare product, I am looking for brands I have not used before or new care from the brands that I love. I am a picky customer, however. I always do my research before buying anything new. I love treating my skincare as jewlery for the face. 
And since we are in the most glamorous and festive time of the year, I am sharing with you my top glowy skin and hair care cosmetics that are an absolute must have!
KERASTASE INITIALISTE  
This is the haircare product that I have been using for the past three years! I  bought it following the recommendations of my hair stylist as my hair was very dull and damaged after the pregnancy. I have used around 6 bottles of this product so far and after the second one I found my hair finally getting strong, shiny and thicker.
I apply it any time after bath on semi-dried hair. I need just few drops that I spread all over my scalp and voila! I have beautiful, healthy and heavenly smelling hair. I just cannot resist buying this product again and again. I definitely consider it one of the best hair care products I have ever invested in!
OLAY FIRMING EYE SERUM 
This is THE eye serum that I can buy over and over again. It is moisturing my eye area so well. I am usually using a concealer which sometimes makes the skin in this area drier than usual. With this serum, however, I feel confident that my skin is fresh, healthy and well moisturised. Obviously, this festive season I am choosing mostly glowing cosmetics so I am real happy that this Olay Eye Serum has a very discrete, still visible, glowing texture. In the days when I do not apply a foundation or BB/CC creme, I feel great only applying this serum and the Glowstarter Illuminating Moisturizer of Glam Glow (see below).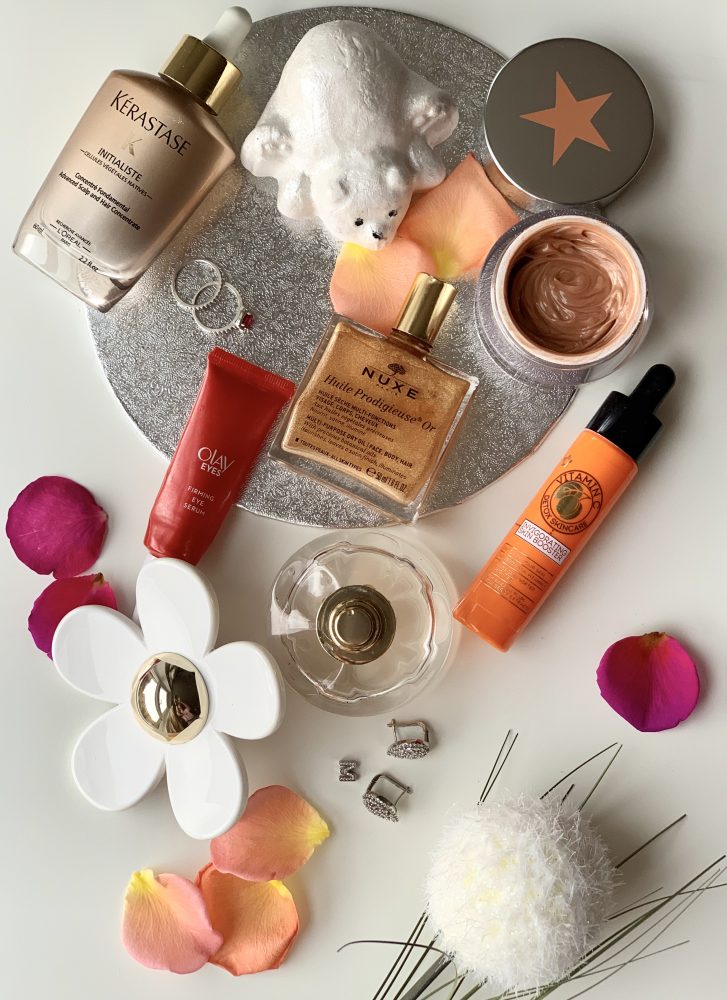 VITAMIN C HYDRATION SKIN BOOSTER
I bought the Vitamin C hydration booster of Superdrug two months ago when I was enjoying a shopping spree with my friends. I bought it as I was looking for a good value-price product that can boost my skincare. I easily fell in love with it and was applying it regularly as part of my night skincare routine for some time now.
The texture is very light and gets easily absorbed by the skin. I am usually applying my night creme over it and I am super happy with the velvet and healthy look of my skin that it adds to. Definitely a must buy again!
LUSH POLAR BEAR BUBBLE BAR (limited X-mas edition)  
This super cute polar bear bubble bar with the scent of spearmint is the most adorable accessory that I have brought to my bath this season. I can literally spend hours in the bath indulging in this refreshing experience. It helps me fully relax my mind and body especially at the end of a busy day.
My daughter loves it pretty much as well as it makes the water milky and bubbly. She plays with the bubbles, covers her bath toys with them and blows them all around. It is so much fun for both of us.
Unfortunately, the cute polar bear was a limited Christmas edition. Looking forward to getting it again during the next year's festive season.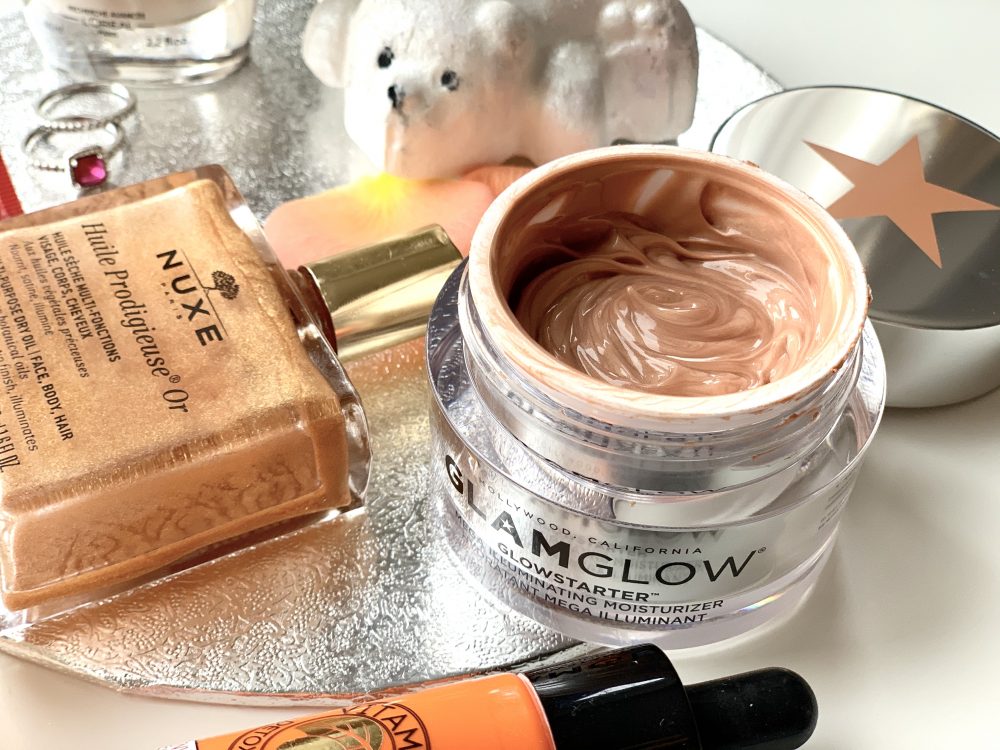 NUXE HUILE PRODIGIEUSE OR 
I used the Nuxe Huile Prodigieuse Or a couple of years ago to hydrate my skin. I bought it last month again and instantly remided myself why I enjoyed it so much before. Just as the Glowstarter Illuminating Moisturizer (see below), it gives a sun kissed shade to my face. I love the way it shines under the day light. Sometimes I apply it to my body and hair as well, especially if I am clubbing or having a date night with my husband. Looks so great on the skin! I love using it during the summer when my skin shimmers so nice under the sunshine. It also intensifies my natural tan.
The only thing I still cannot get used to is its scent. I would have preferred it was scent free. Also, it could be because my skin is drier these days, but it is not a suffient moisturizer for me. I should always use it in combination with another moisturizer, such as the Vitamin C hydration booster, for optimal results.
GLOWSTARTER MEGA ILLUMINATING MOISTURIZER  
I am absolutely in love with this illuminating moisturizer of  Glam Glow!!!  It could be bought in three shades – pearl glow, nude glow and sun glow. I chose for myself the sun glow shade as during the winter months my skin looks rather pale. Edinburgh is not the most sunny city in the world during this time of the year so I need to use some small tricks like this product.
I like that it instantly gives my face a sun kissed shade and has little sparkles that glow really nice. It smells heavenly to the extend that one might want to eat it. It is a lovely complementary product to any skin care routine. With it I never need to use BB or CC cremes. The texture is very light, gets easily absorbed and moisturizes really well. This is of utmost imprtance to me as during the winter my skin is rather dry. 
With this creme my skin is well hydrated and most importantly, it does not give an unwanted shiny/oily look.
MARK JACOBS DAISY LOVE 
Daisy Love is my very special love in the realm of perfumery. I came across it at the airport of an exotic island last October during an amazing impulsive holiday with my family. I have been using it every single day ever since. And though I have few other perfumes this one is my absolute favorite. Its  aroma is delicate and light and reminds me of wonderful sunny beaches and blue lagoons. 
XXX
The Mermaid