The sensation of beauty is a feeling of a woman. Beautiful and healthy skin gives us freshness, makes us radiate strength and happiness, and feel confident in ourselves. In order to enjoy it for a long time, it is advisable to use daily rituals of care. Charming Sylvia Nedeva is a guest of Witty Mermaid to reveal the secret of her beautiful and young vision, and to release some of her face mask recipes.
WM: You are often said to be 27, because of the way you look and because of your smooth and clean skin. What care do you take of the skin of your face?
SN: Skin care as well as the care of the whole body includes several components, one of the most important being food – its origin and processing, and the style of nutrition. My best facial cosmetics are on my plate, in my kitchen and in my fridge. When I changed my diet and life style many years ago by stopping cigarettes and turning off all foods containing artificial preservatives, conditioners, all refined products, dairy, pasta and sugar products, soft drinks, I made it from a prophylactic point of view. I didn't know it would have such an impressive effect on the skin and the face. But the more years passed with a similar style of nutrition, the more tangible the results are as the effect accumulates. Besides the food, I trust professional face therapies with a cosmetician such as cleansing and moisturizing, but I admit I'm not the most regular. It happens to miss a few months. And only in the last place face care products are of importance for my skin condition. These are my observations based on the experiments I have made over the years, especially with regard to the types of face care products.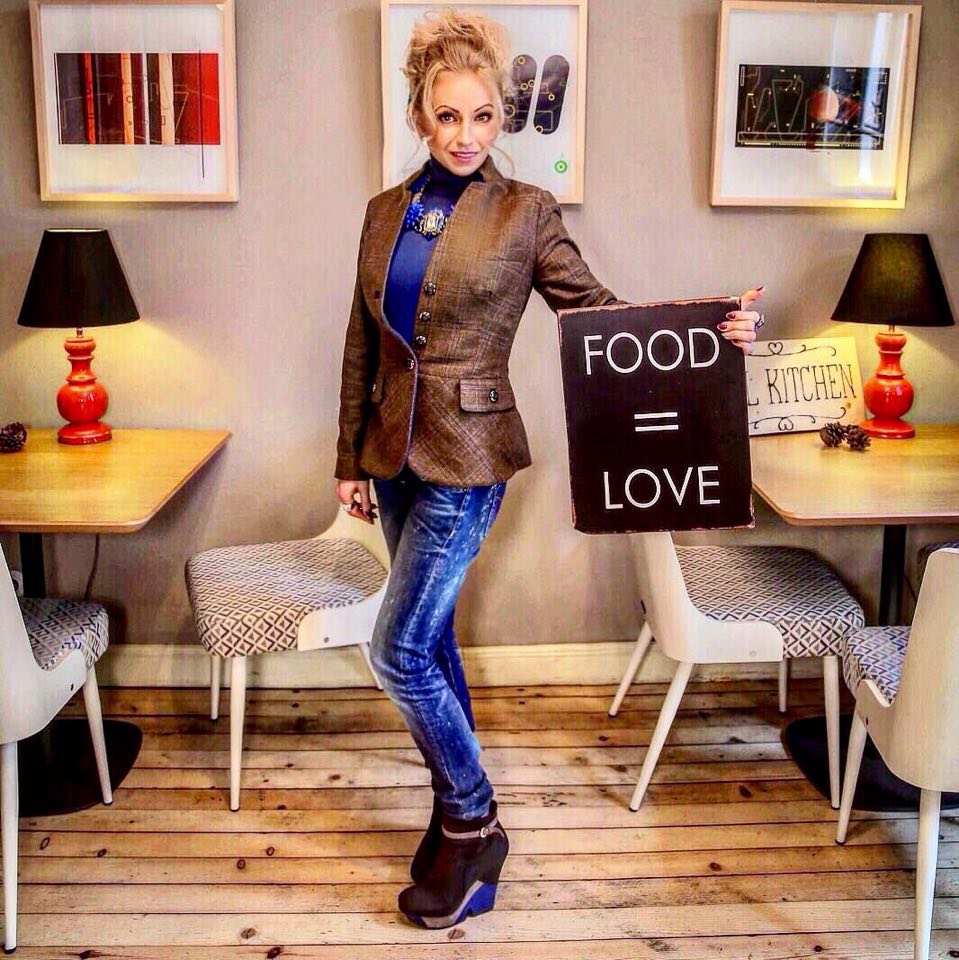 WM: How do you hydrate your skin?
SN: First of all, I will repeat, I rely mostly on my nutrition style, because my experience has proven it that the skin is nourished and hydrated from the inside with the right foods. All external methods, such as cosmetic procedures and products, rather have complementing functions, but if you do not eat healthily and the right foods, whatever creams you use, the result will be nothing special. And if you smoke cigarettes, then the skin is facing an even greater challenge, as with serious smokers over the years it acquires the characteristic for the smoker marks such as wrinkles and premature aging, lack of skin tightness, lack of vitality … You know that smokers should take twice as much vitamin C than the non-smokers …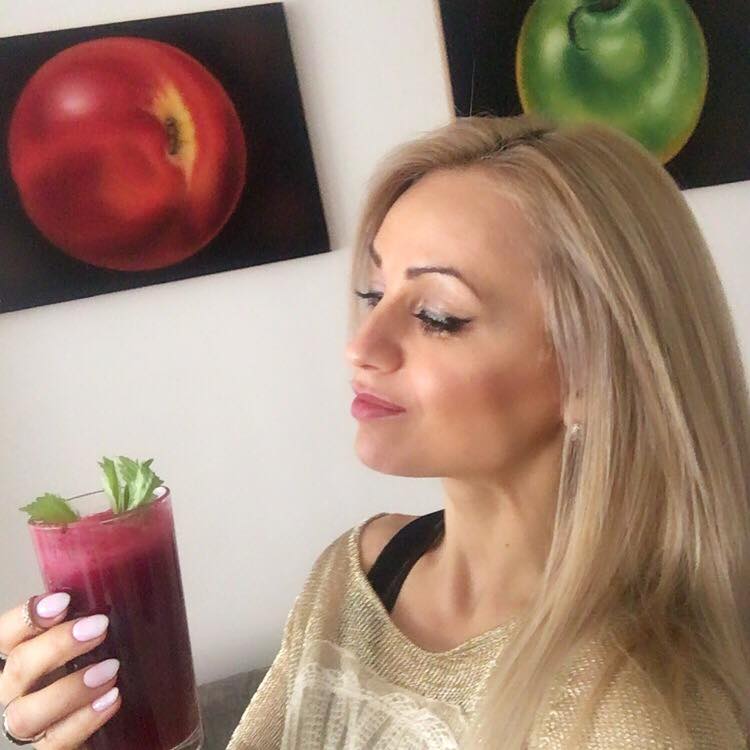 Personally, I eat every day about 3 kgs of fresh vegetables, leafy vegetables and fruits in the form of salads and freshly squeezed juices in different combinations, as obligatory I add the juice of squeezed parsley – 1-2 bunches, and ginger every day. In addition, I eat every day food rich in fat and antioxidants that are useful for the skin such as avocado, coconut, cocoa, raw seeds and nuts. I apply cocoa or coconut oil to the skin as external care or creams rich in avocado fat. I drink marigold tea.
WM: We are basically water and for a nice, healthy and elastic skin it is important to be well hydrated. How many glasses of water/fluids do you drink during the day? Does it matter if it happens before/during/after meals?
SN: It is very important during meals or immediately after not to consume liquids because otherwise the gastric juices are diluted and thus the digestion is made difficult. By slowing down digestion, heaviness, swelling, stomach discomfort will occur, and that all is perceived by the body as a stress that is totally unnecessary to be caused. I never drink water during meals. But not just water, it gets even worse if you drink juices, carbonated soft drinks, beer, and so on. During the winter season I drink about 2 l of pure water a day, about a liter of freshly squeezed juices, and about 500 ml. herbal tea. Given my physical workloads and eating habits, I do not think I need more. When a person eats a lot of plant food, fresh fruit and vegetables, they does not need much water, but when the meal is rich in animal protein or refined foods, a little fruit and vegetables, then the amount of water a day is double.
WM: Will you open slightly the veil of care for a healthy and beautiful skin at home? What is your recipe for your favorite scrub, made easy and fast at home?
SN: I can boast a home scrub for a body and a face I soon made at home after I found out that the one I had bought was over and I had all the ingredients in the kitchen to mess up one at home.
The recipe is:
• 1/2 cup of white and brown sugar
• 1 cup of ground coffee
• 2-3 teaspoons of cardamom powder
• 2 teaspoons of almond oil
• 2 teaspoons of coconut oil
• 1 ampoule of vitamin E
WM: What is your favorite mask you are doing to smooth the fine wrinkles, make the skin shine and give it a soft feel?
SN: To make the skin shine and radiant, the tan must become uniform and remove pigmentation, color irregularities, etc., if any. For this purpose, I exfoliate my face once or twice a week. I rub lemon juice in the skin and stay for about 3 minutes, the fruit acids in the lemon act like peeling and make the tan equal. Then I wash with warm water and apply royal jelly to tighten the skin and smooth the wrinkles accordingly for about 5 minutes. I wash off and apply oil of marigold or almond! This is my very easy and effective procedure at home.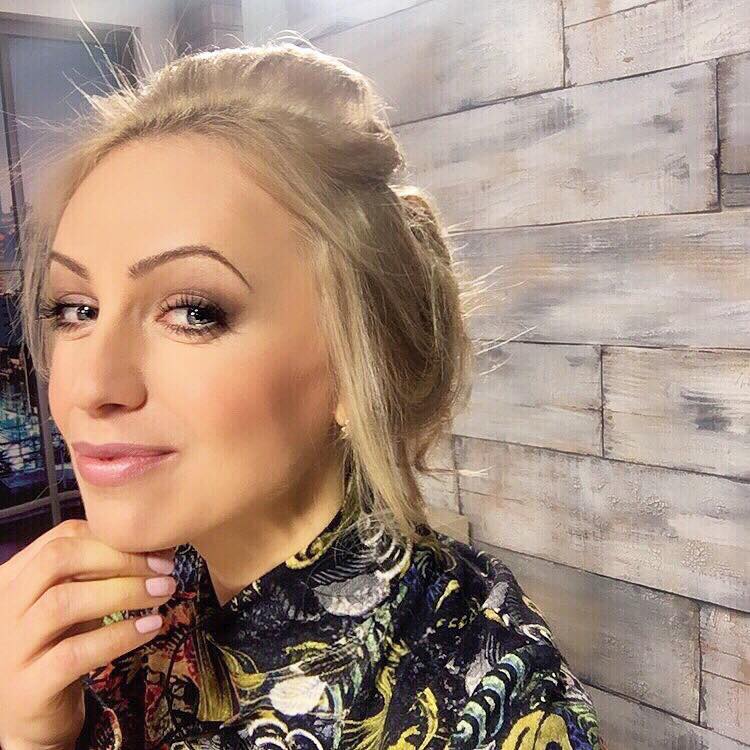 WM: The balanced lifestyle and nutrients-rich feeding are a prerequisite for a healthy body and beautiful skin. What kind of diet do you follow to look and feel good?
SN: I would not say it better – really the beauty of the skin and the face, the shine, the strength, the tight face skin – all this is thanks to my nutrition and living style. I do not smoke, I do not use drugs, I do not use opiates or narcotic stimulants, and I do not drink strong drinks. For me, alcohol is of no importance in my life, I have no opinion on it. I drink very rarely wine, red or rosé. I do not eat fried foods, one day a week I drink only water or fresh juices. I have been observing the principles of separate nutrition for 18 years. I do not consume liquid extracts of fats like olive oil, oils, etc., and do not add salt to the food. 80% of my food is biological.
WM: What are the most important minerals and vitamins for the skin that we can derive from food?
SN: Beta carotene and lycopene for healthy skin complexion – carrots, broccoli, spinach, pumpkin, apricots, tomatoes and red pepper. Without carotene, the body can not produce retinol, and retinol fights the appearance of wrinkles.
Antioxidants – in all fruits, but mostly blueberries, small fruits. Antioxidants prevent aging of the skin!
Vitamin E – hydrates the skin and protects against aging. In nuts, especially almonds and walnuts.
Zinc, B vitamins and iron – blueberries, dried apricots or raw cashew.
Omega-3 fatty acids – fatty fish such as sardines, for example. Nuts, linseed.
Vitamin C – Fresh fruits and vegetables.
Green tea – rich in antioxidants, polyphenols and others.
WM: How much time do you spend on skin cleansing, make-up cleansing, and home making of masks?
SN: For make-up and skin cleansing I spend no more than 30 minutes a day in total. I prepare a decoction of rosemary that works well and smooths the wrinkles.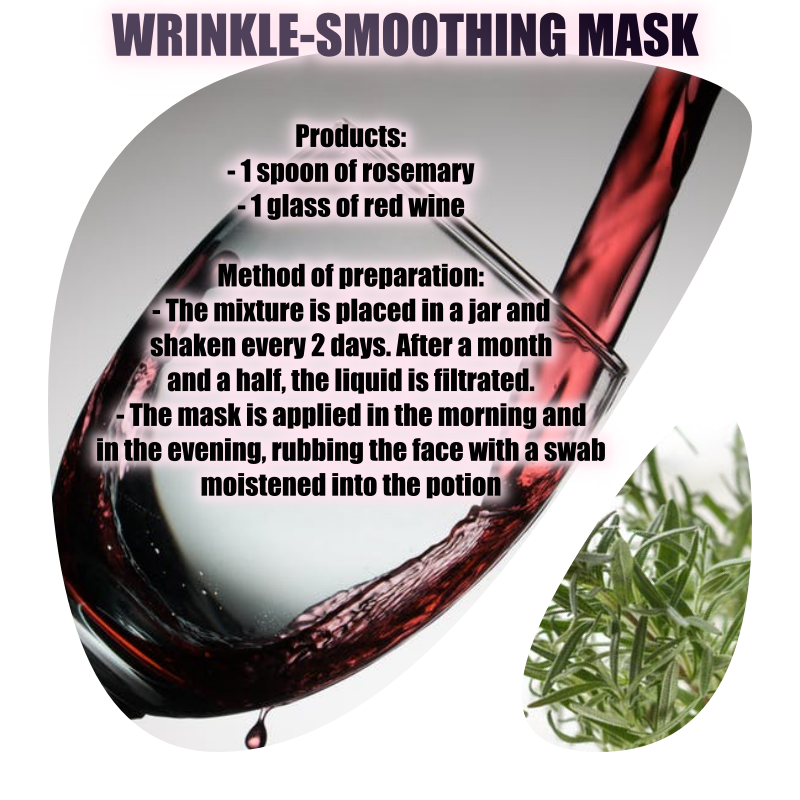 WM: What would you advise ladies who are skeptical about home-made skin care products?
SN: Given my positive experience with home scrub and rosemary potion, I'd tell them to try and do it. The preparation itself gives a lot of mood, and the feeling of knowing exactly what you put, that there are no preservatives and chemicals is wonderful. After all, you are doing something very good for yourself and I would advise the ladies to try to "cook" something delicious for their skin.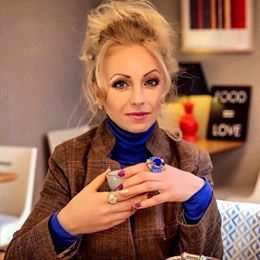 Sylvia Nedeva has a long experience in management positions in the public administration and the private sector in Bulgaria and abroad.
She is 37-years old and one of her greatest love in life is healthy eating, thanks to which she maintains beautiful shape, smooth and radiant skin and strong health. She likes meeting friends, crazy parties and privacy with nature. She is a fan of real feelings and does not tolerate hypocrisy. Charging and attracting with a personal example, she likes to travel, risk and ask questions. She says about herself that she is seeking and unbelieving!