A realm of great discoveries, true friendships, big dreams and a flight of imagination – this is what the happy childhood stands for. At least for me. It is rich in taste and aroma. And it brings me back to the infinite poppy fields around my grandmother's cottage. The freshly sliced sweet peppers from the yard stuffed with homemade cheese. My grandfather's unique kachamak (traditional Bulgarian meal). And the cherry trees that I used to climb to pick the sweetest fruits ever… What a memorable childhood I have got!
Nowadays things seem slightly different. For quite many kids the poppy fields are replaced by walls, and the tree climbing – by glowing screens in their hands. Whether from nostalgia or rebellion, I decided to offer my daughter a colorful, playful, emotional and exploratory childhood. Much like mine. She knows how to play movies and songs on YouTube, but she prefers spending her days outdoors among peers. In motion, gatherings, discoveries, activities.
I realized that in today's world, where the majority of the kids have their noses stuck into their phones, this kind of childhood is more of a privilege. Especially, when the family gathers around the table with friends or enjoys some time in a restaurant or a cafe for a long dinner/brunch. With the intention to connect, to reunite, to share. In these moments, it feels annoying to see the faces of our beloved kids motionless as if they exist in the online space only. That is why I decided to share with you the mini tricks that keep my daughter and her friends busy, creative and grounded. 
It is clear that the expectations of a 2-5 year old kid should be different from the ones we have for older kids and adults. Yes, they lose quickly focus. Yes, they can bearly sit still for more than 3 minutes. And yes, they talk and make noise constantly. But to keep them contained does not mean that we need to hand them a phone and admire the dexterity with which they browse YouTube. 
SHIFTING KIDS' INTEREST FROM PHONES TO EXCITING ACTIVITIES WHILE AT A RESTAURANT/CAFE
My mornings always start early and continue in overwhleming dynamics. That's why I never have time to have coffee at home. I usually indulge it later in the day in the wonderful company of wee one and other moms with their children. We share the ritual of drinking babycinos and lattes before pre-school/playing in the park /visiting museums and galleries, etc. Here are the small tricks we use to keep our kids engaged and well mannered on thetable.
1. Colorful crayons and white sheets of paper. The imagination of kids in an infinite universe. They do not need much. Just a bundle of color crayons and a small notebook with white sheets. And then rainbows, unicorns, spaceships, wizzards and sea predators appear on the paper. And magic happens.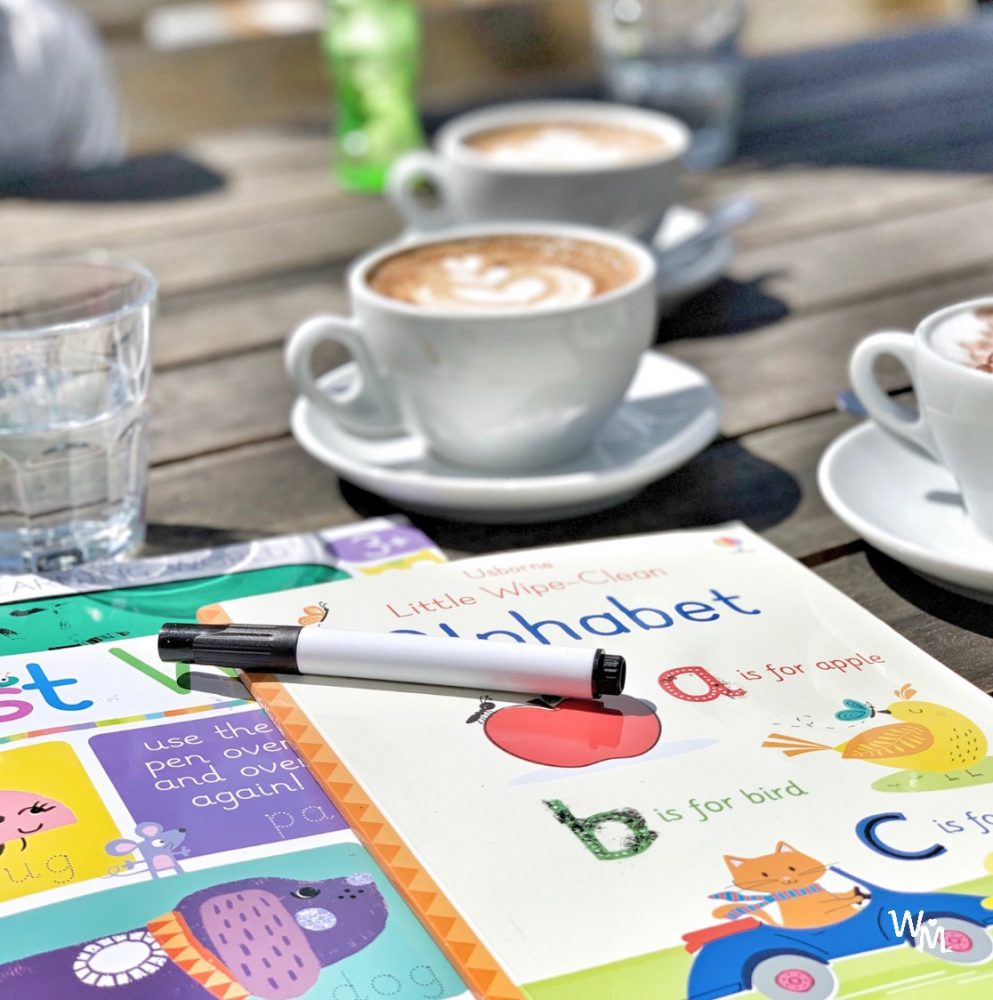 2. Numeracy and literacy activity books with temporary markers. These are my favorite ones for two reasons. Besides being extremely entertaining, they also teach kids new things such as writing, subitizing, drawing and problem solvng skills. My daughter has at least 5 different activity books on various topics – from the alphabet to space and she never gets bored with them. And temporary markers allow each page to become as good as new with a single swipe of a tissue.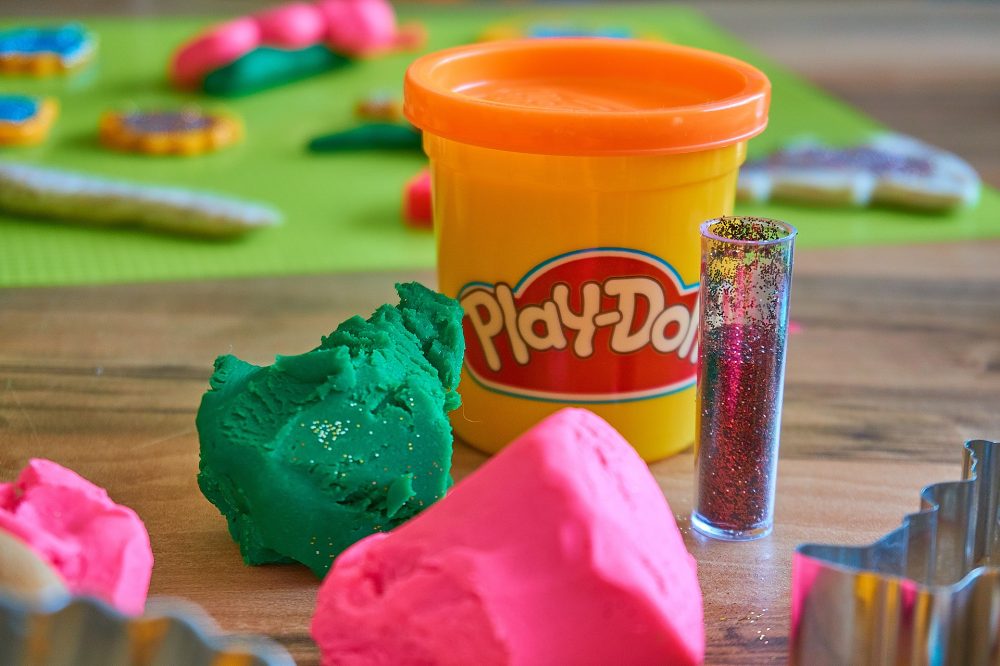 3. Play-doh. The other savior of any mom in need of caffeine. We make sure to have at least one of us carrying small boxes of play-doh in our bags. It develops kids' fine motor skills, and the more children gather, the merrier it becomes. Even for the people sitting at the surrounding tables who witness the creation of whole animal farms, castles and knights.
4. Green and playground areas. Every mom knows that coffee is drunk Italian-style. Like shots. My friends and me, however, have found a way to drink our coffees the Parisian-style. Slowly, indulging, chatty. That is why we carefully select the locations of the places we visit with the kids. The restaurants and cafes we choose are always in parks, interlocked on closed squares with green areas and playgrounds. The reason is simple – children play hide and seek, draw chalkboards on the tiles, race or scoot. They have fun – mamas have have fun as well.
5. Memory cards. One of the things our kids have fun with while drinking their babycinos are memory cards. It is exceptional to watch them with what an ease they find and combine the alike cards. This is also a great exercise for teamwork, focusing and memory training. As a bonus, it teaches children to respect their friends, to wait and to share. A real dream.
6. Bubbles. I love watching the little ones giggling as they make giant soap bubbles and trying to get into them. With so much laughter, they all have to sprint to the toilet.
7. Stickers. The most trivial stickers with animals, comic characters, flowers, hearts – whatever you find in the store. We take paper cups and the kids "draw" whole stories by sticking the stickers on them. It's great fun to hear what a mini comic book they've created with just a few stickers and a paper cup. I have kept the majority of the paper cups of my wee one as some of them are real masterpieces.
8. Cars, choppers, trains. At least one of us has a whole car park in her bag. Children set up police and fire stations, make races and more. What I like most is that along with the fun, our mini versions are learning essential skills such as teamwork and sharing.
9. Puzzle jig saws. Sometimes we bring small puzzles of twenty pieces and give them to the kids to have fun. This improve their focuing and combination skills.
10. Cafe in a library. This format is quite common here. I honestly like it because there are plenty of options for reading books and doing some arts (drawing, cut&paste collages, LEGO building, etc.). There are often special activities where a children's book is promoted and kids can draw and paint the characters from it, meet with the author and have fun together.
As it turns out, providing kids with fun while at a restaurant/cafe is nothing more than good planning and a pintch of imagination. When we are having dinner with the kids we always choose kids-friendly establishments where they provide whole sets for drawing, coloring and making collages.
So folks, these are my secret tricks that have proven as highly successful in keeping my daughter happy and engaged without interacting with phones and tablets. It will be quite interesting and resourceful if you share how you engage and keep your kids busy while at a restaurant/cafe.
ХХХ
The Mermaid