I am obsessed with honey, the way I am obsessed with sports. Every single morning I drink my coffee with a table spoon of either organic tropical forest honey, raw orange blossom honey or organic raw active wild flower one. I have encountered multiple times the Manuka honey that can blow your mind with its 250 gram prices. It not only intrigues with its cost but also with the range of its potency which meant absolutely nothing to me, so I decided to dive into the topic and share with you all you need to know about Manuka honey.
Manuka Honey
Nowadays it is labelled one of the superfoods mainly due to the health and beauty benefits it has to offer. It is produced in New Zealand by bees that pollinate the Manuka bush – also known as tea tree.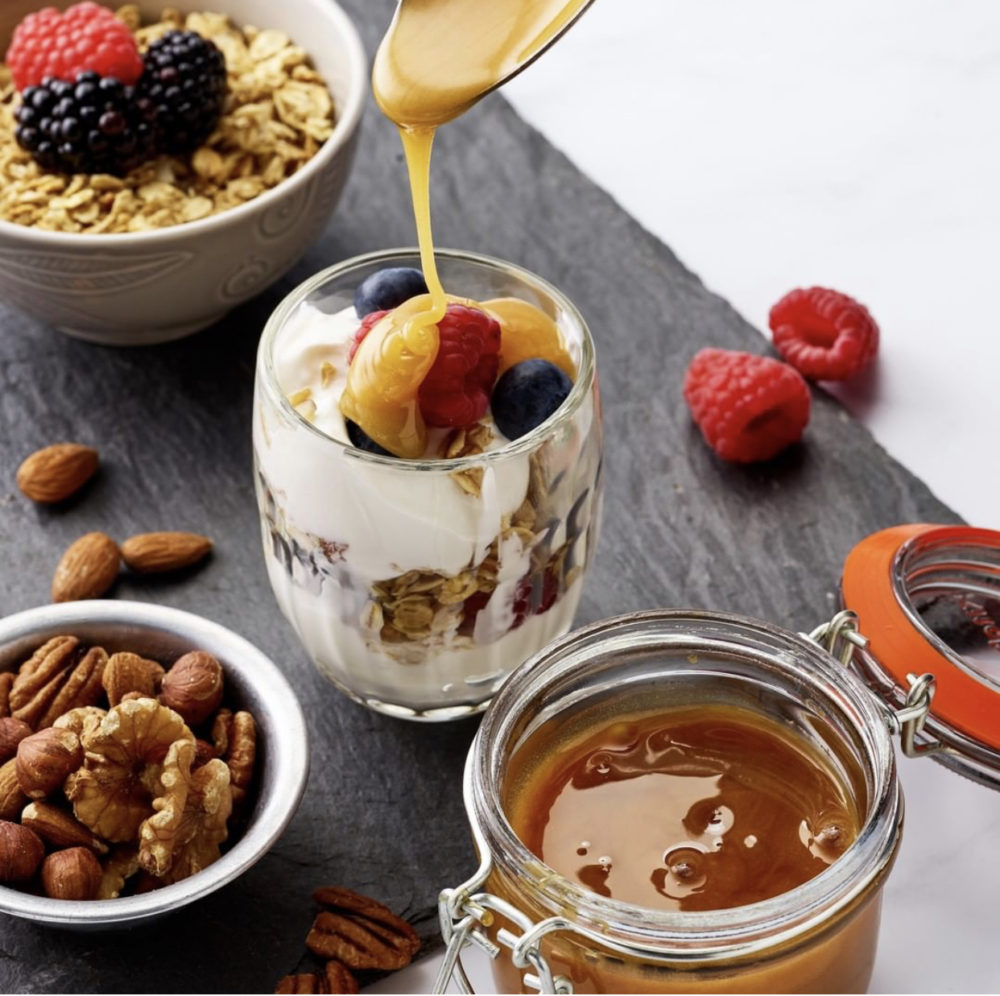 Potency 
Each Manuka honey has a Unique Manuka Factor (UMF) rating of 10+ or more on its label. The higher the factor, the more effective is the honey as the UMF actually refers to the level of its antibacterial property. The ideal potency is considered to be between UMF 10 and 18. The one that I purchased the other day has UMF 12 and I must confess has the best and most intriguing taste I have ever tried.
Uniqueness
Manuka honey has bioactive properties. It contains dietary methylglyoxal (formed naturally in the tea tree flower's nectar) and has a considerably higher level of enzymes (which work as an antibacterial) than regular honey, all of which give its healing properties.
Uses
In order to reap its benefits, you should take about 1-2 tablespoons daily. You can enjoy its taste by taking it straight, just as I do, or spread it toast, adding it to your yoghurt or spooning it into your tea.
Healing Power
Manuka honey has antiviral, antimicrobial and antibacterial properties. Some of its most popular benefits are as follows:
Helps with low stomach acid and acid reflux
Treats acne and eczema
Combats staphylococcus infections
Treats burns, wounds and ulcers
Prevents tooth decay and gingivitis
Improves sore throats and immunity
Helps allergies
Improves sleep
Improves digestion
Boosts energy
Is used in beauty treatment – check out the homemade masks below.
Homemade Masks & Shampoo
Manuka can be easily used to make some nourishing and revitalising home masks. With the quantities of the ingredients mentioned below you can have as many as 20-30 serves per mask.
As mentioned above Manuka honey is said to treat acne and other skin disorders. That is why this mask is going to clean your skin deeply and nicely.
Ingredents
1 tbs coconut oil, melted
3 tbs honey
1 tbs apple cider vinegar
20 drops melaleuca essential oil
2 capsules of live probiotics
Preparation
Mix all ingredients well. Pour into a convenient bottle and store in a cool place.
After the pregnancy I had to deal with some issues with my hair. This mask is definitely going to revive your hair! It kills bacteria, restores moisture and reduces dandruff all in one 🙂
Ingredients
1 cup water
5tbs honey
5 drops lemon essential oil
glass bottle with dispenser
Preparation
Combine all ingredients and mix well. Transfer to the dispenser . Shake well before each use.
XXX
The Mermaid