Sports, apart from being healthy, is quite enjoyable. I have been in love with it since the time I was 14 years old. For the past two decades it has been not only part of my daily routine but also my greatest stress relief and source of happiness.
When I became pregnant I wanted to continue exercising during the very end. For this purpose I spoke with my OB practitioner and after several standard exams (blood and wee) and some scans (ultrasounds) I got the desired affirmative answer. I aimed to adapt my activities subject to the trimester I was in, in order to feel comfortable while working out. The key benefits from this for me and my baby were the following:
decreasing the discomfort from all body changes – back pain, pain in the pelvic floor, constipation and tiredness
freshness
proper night sleep
handling the weight
limiting and/or avoiding depressive episodes and affirming your self-esteem
preparing your body and mind for going into labour
quick going back into shape after the birth
Subject to the experience I have from my own pregnancy I recommend you the most suitable sports you can exercise for these amazing for every woman nine months.
#1 Pilates
This sport has the absolute capacity to revive you as a phoenix from the ashes of pain and discomfort that you will feel from time to time during your pregnancy. It is extremely suitable for coping with coordination and back pain. Thanks to it you could make your body strong, flexible and balanced. Pilates strengthens your tummy, back and pelvic floor muscles without straining other joints and is hence perceived a great exercise to do when pregnant. It is recommended to avoid exercises that make you twist the mid section of your body. Several pilates sessions per week could make miracles with your tone and the feeling of your own body.
#2 Yoga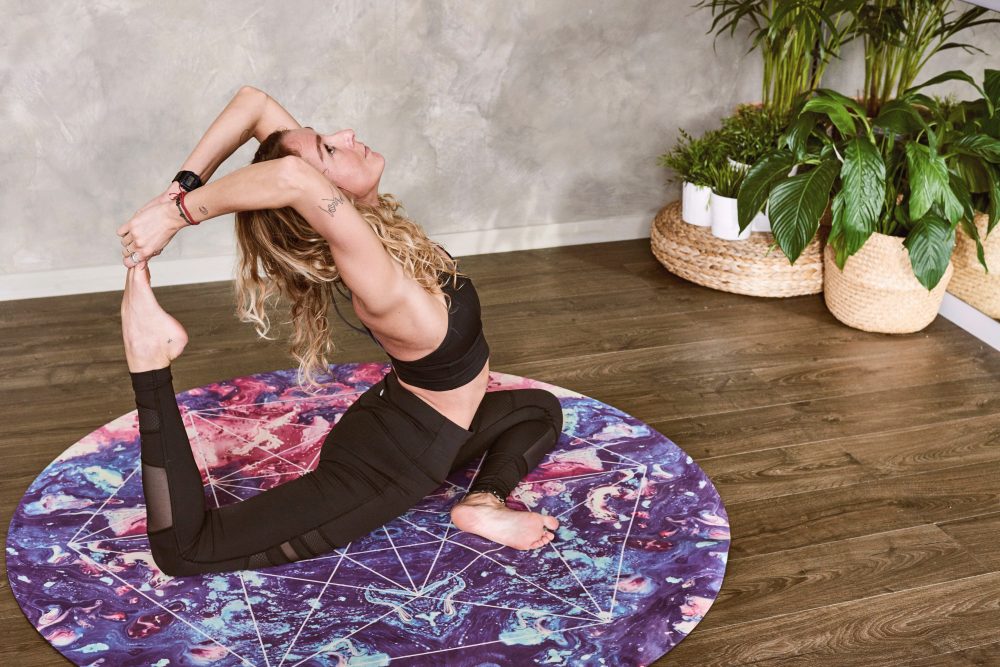 This exceptional sport develops strength and balance, sustains the muscles toned, works on your flexibility, decreases your blood pressure and teaches you key breathing techniques that you will find quite useful during labour. The exercises that you should avoid are related to asanas that twist your abdominal, head stands and hot yoga practices. Exercise confidently during each day of your pregnancy 🙂 Namaste!
#3 Walking
I was lucky the majority of my pregnancy to be during the spring, summer and autumn months, hence the long walks in the park used to be my mantra for good health and great mood. This is the most natural physical activity that our bodies can perform daily. You can even increase your heart beat via faster walking pace. I was walking between 10 and 20 kilometres every day. In the moments when the weather was bad I was playing Eros Ramazzotti and was walking on the thread mill on 7.5 km/h.
#4 Swimming / water aerobics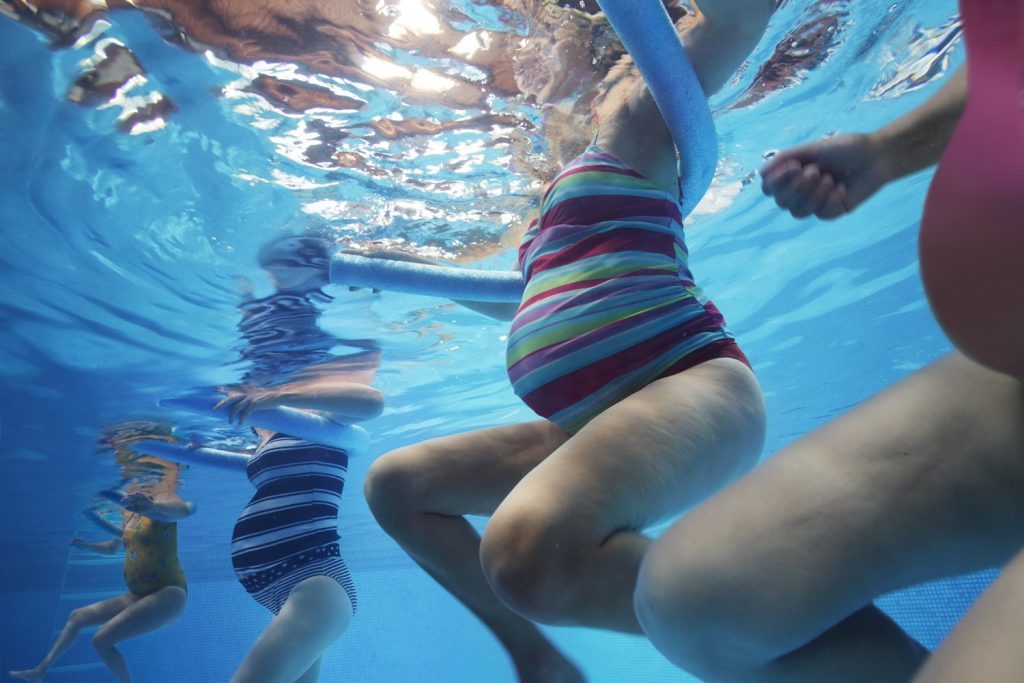 The swimming pool could turn into your best friend during the pregnancy. For me, unfortunately, this was not the case as in this specific period I was mostly having discomfort that made me avoid pools. In all other cases, however, the water has a very soothing effect and the exercises under the water are quite beneficial for building strength and stamina (and trust me, you will need both when in labour). Again it is important to avoid exercises that twist your abdominal. You can practice water aerobics 3-4 times weekly.
#5 Running
As it became clear at the very beginning of this article, I started running professionally from early school age so I will not exaggerate if I say that this is my true sports love. I enjoyed beginning every work out with 15 minutes running either in the park or on the thread mill at 8 km/h during the pregnancy. Be advised that unlike all other sports discussed above, running has to be decently discussed with your OB practitioner during the last two trimesters. During the first trimester you may run 2-3 times weekly.
#6 Weight lifting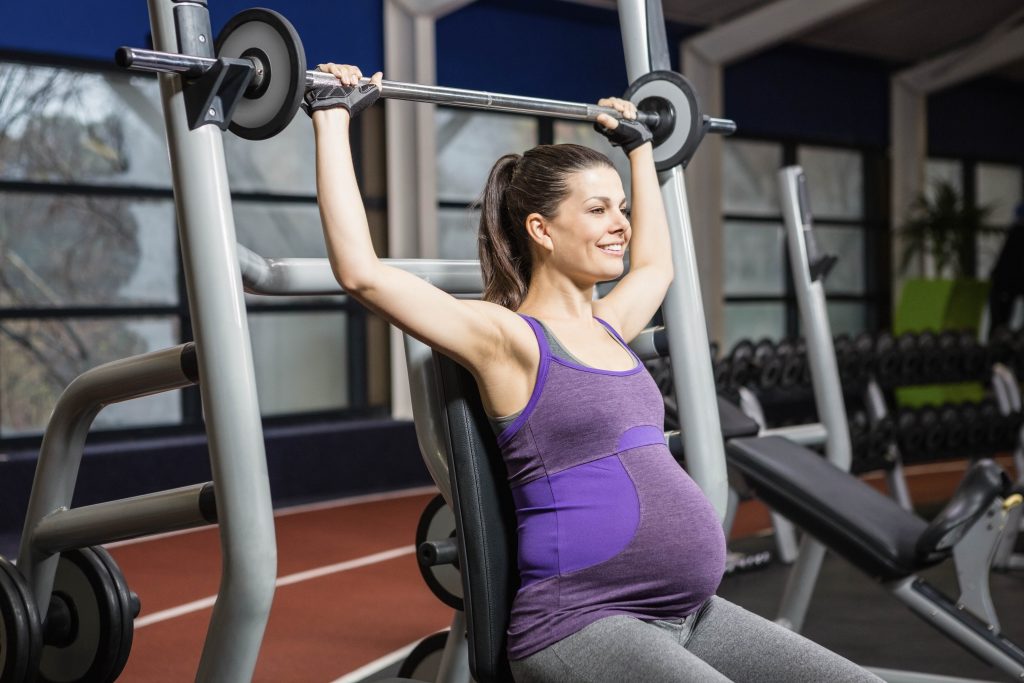 I will never forget how at my very first anomalies scan and discussion with my doctor about my obsessive need to do sports, he showed me a recent pic of one of his patients who in her 7th month of her pregnancy was lifting weights of probably my own kilograms. Weightlifting can help you build strength and carry all extra kilograms that you will gain during the last months of the pregnancy. What you need to be strict about is not to put weights on your tummy or to lay on your back on the gym equipment. You could practice such activity 1-2 time weekly provided you are cleared by your doctor.
#7 Spinning
I went several times to such work outs and though I was feeling well toned and prepared for any kind of sports activities, this was the work out at the end of which I was gathering my lungs from the floor. During pregnancy it is advisable to avoid riding a bike outside (as you may fall and hurt yourself and the baby), hence if this activity is your narcotics you better go for spinning classes at the gym. Be always careful with the pace that you keep in order to feel comfortable. By the end of the first trimester it is possible to feel a slight shift of your centre of gravity – adapt carefully the height of your saddle. This will affect you when riding the bike standing up. You can go for spinning sessions 2-3 times weekly.
#8 BOSU
As mentioned above, during pregnancy the centre of gravity shifts slightly. That is why it is good to work on your coordination via various exercises. The BOSU ball is quite helpful in this respect. BOSU is a sports format that works on each and every muscle in your body simultaneously. This was my most favourite workout up until I understood that I am pregnant. The exercises that I performed during the pregnancy changed slightly and were mostly focused on building strength and balance. When training on the ball make sure that your leg is always on the lower part of the ball and that both your legs are parallel on the floor. Keep the back neutral and look ahead. If you want to load your body additionally hold your hands behind the back of the neck. You can workout 2-3 times weekly.
#8 TRX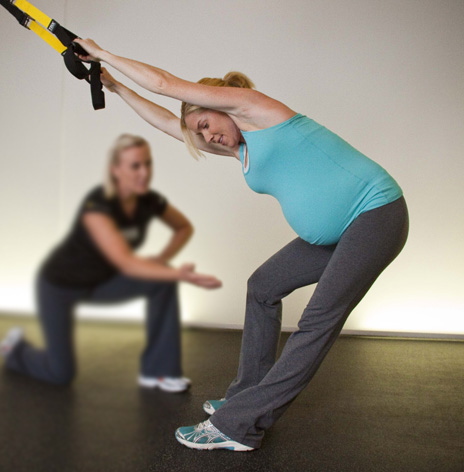 These activities make use of the weight of your own body and are quite suitable for each stage of the pregnancy. They help in building strength and via the handles you get extra stability and support in making each and every exercise. Practice TRX any time when you have the stimuli to use weights but you do not want to play with dumbbells.
For one truly fascinating pregnancy I recommend you regular training sessions and a good dietary regime which to give you and your baby everything necessary for a harmonious and healthy development.
XXX
The Mermaid